The Sustainability Festival returns!
SustFest21 is a community umbrella festival organised by the charity Sustainable St Albans and St Albans Friends of the Earth group. This year it takes place 23 May to 6 June.
Each year a working group made up of volunteers from the two groups and other interested people get together to organise the festival. The working group encourage local groups, businesses and schools all to run events and activities, creating an exciting sustainability festival by the people and for the people of St Albans District.
Click on the poster to see some of the main events organised.
How are Wheathampstead getting involved?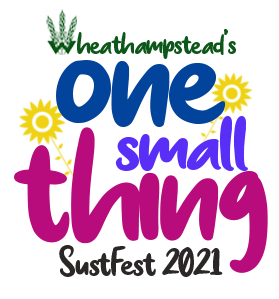 This year we have adopted the theme of 'One Small Thing', based on the idea that lots of small actions add up to bigger impacts.
Residents can take part by doing 'one small thing' related to the idea of sustainability. This could include a wide range of ideas, from deciding to walk to the shops rather than drive, hang washing out instead of using the tumble-dryer, or maybe turning the thermostat down a degree or two and wearing a jumper.
The whole family can get involved – children could grow a sunflower to attract bees and other pollinators, and maybe have a competition with their friends as to who can grow the tallest sunflower. Not only do all these ideas have a positive impact on sustainability, they can also save you money!