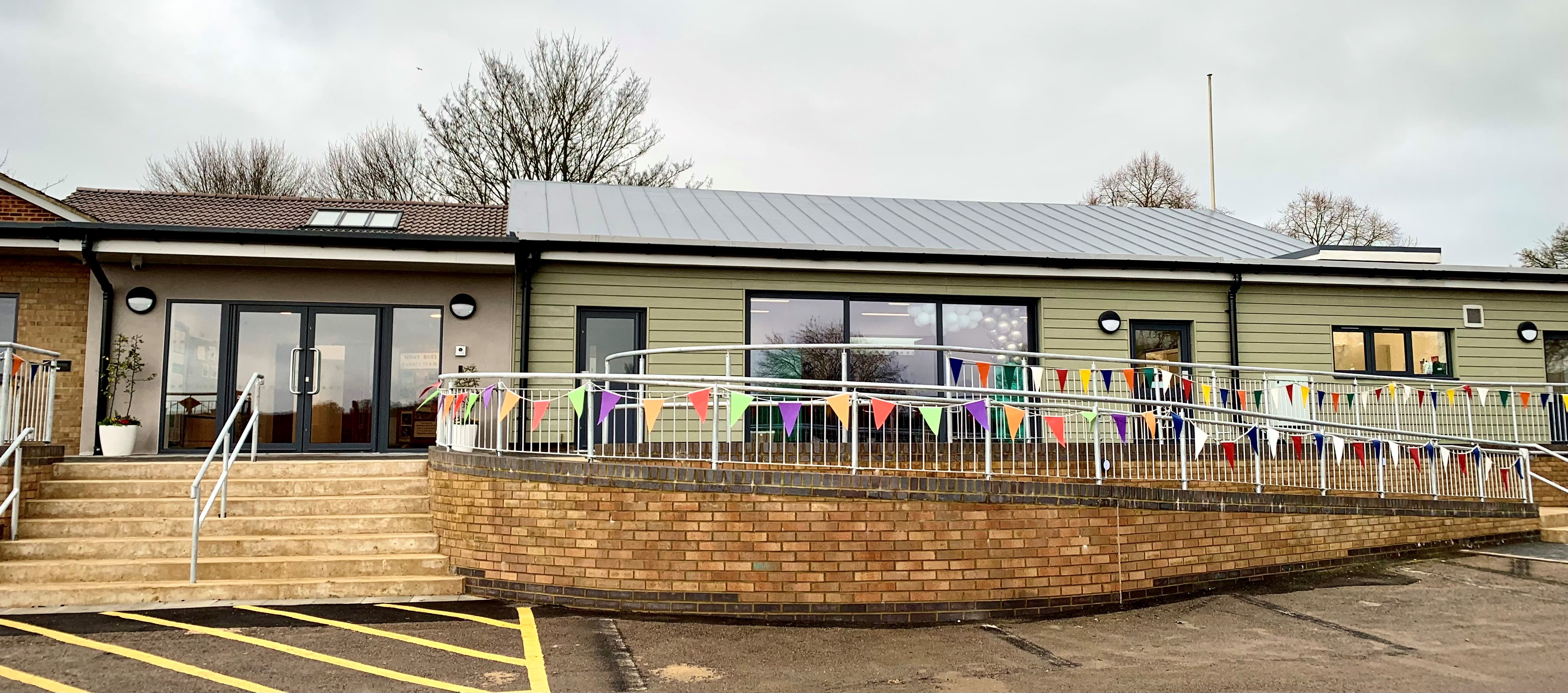 Wheathampstead Parish Council owns and operates The Marford Memorial Hall, Marford Road, AL4 8AY, in Wheathampstead as a community facility. 
The Marford Memorial Hall also houses the Parish Council office and police office. There is ample parking which is shared by The Memorial Hall and the Village Surgery, the local GP surgery that occupies the same site. 
Click here for the current floor plan.
Please scroll down for updated information regarding hiring in respect of COVID-19 guideline
The Lea (Main) Hall (12.5m x 11m) has a raised stage (8.5m x 5m), full stage lighting and electrically operated curtains. 
It also has an AV (audio-visual) system that will allow high quality films and presentations to be shown on a 4m screen using a high-resolution projector. This room has a sprung wooden floor, ideal for dancing.
There are acoustic baffles to reduce echo and a hearing loop is available whenever the AV system is switched on. There is easy access to the kitchen and a concertina-style partition can be removed to connect to the Hewitt Room.
Room capacity: Up to 120 seated at tables, 170 seated theatre style and 240 standing*.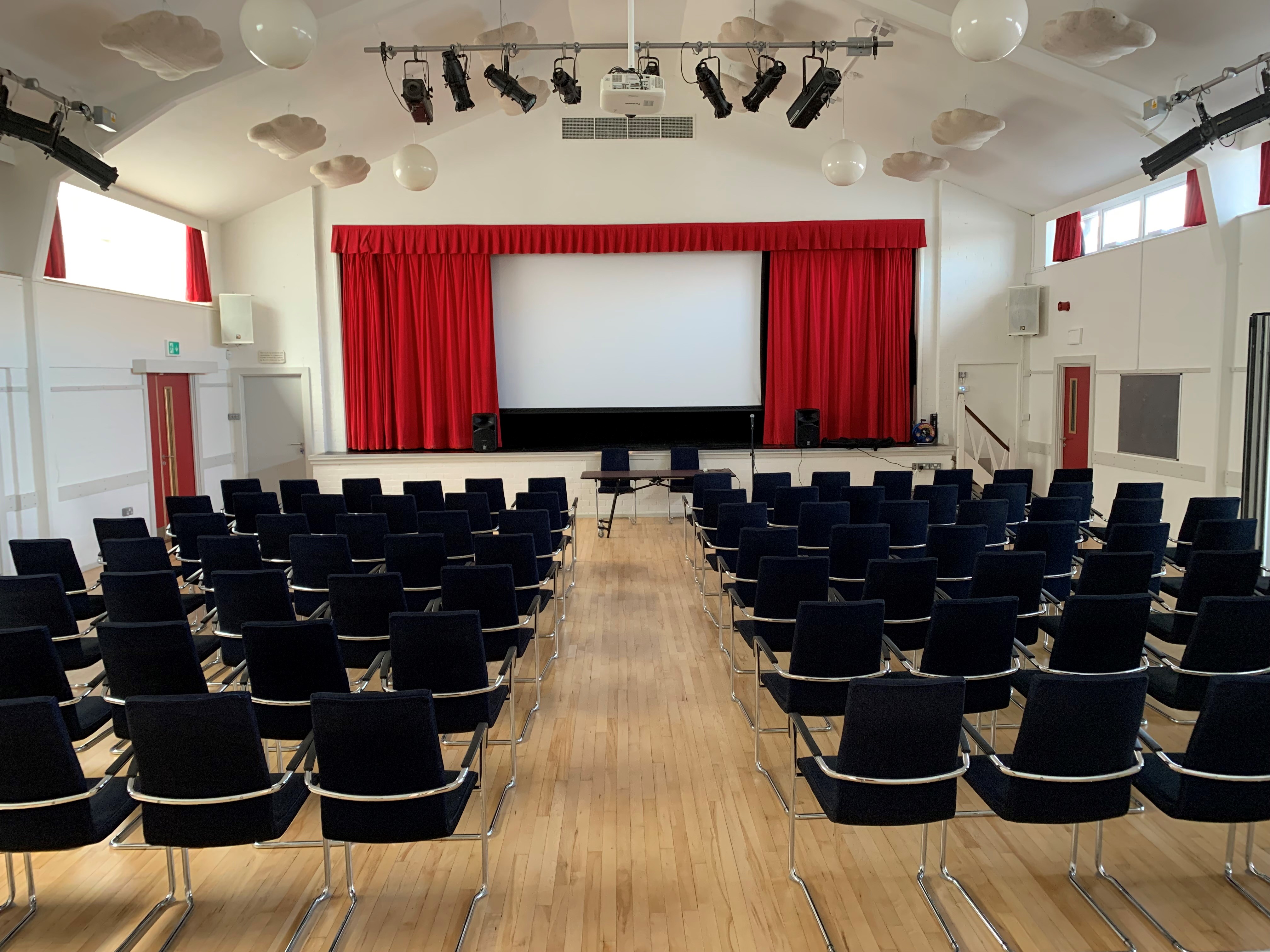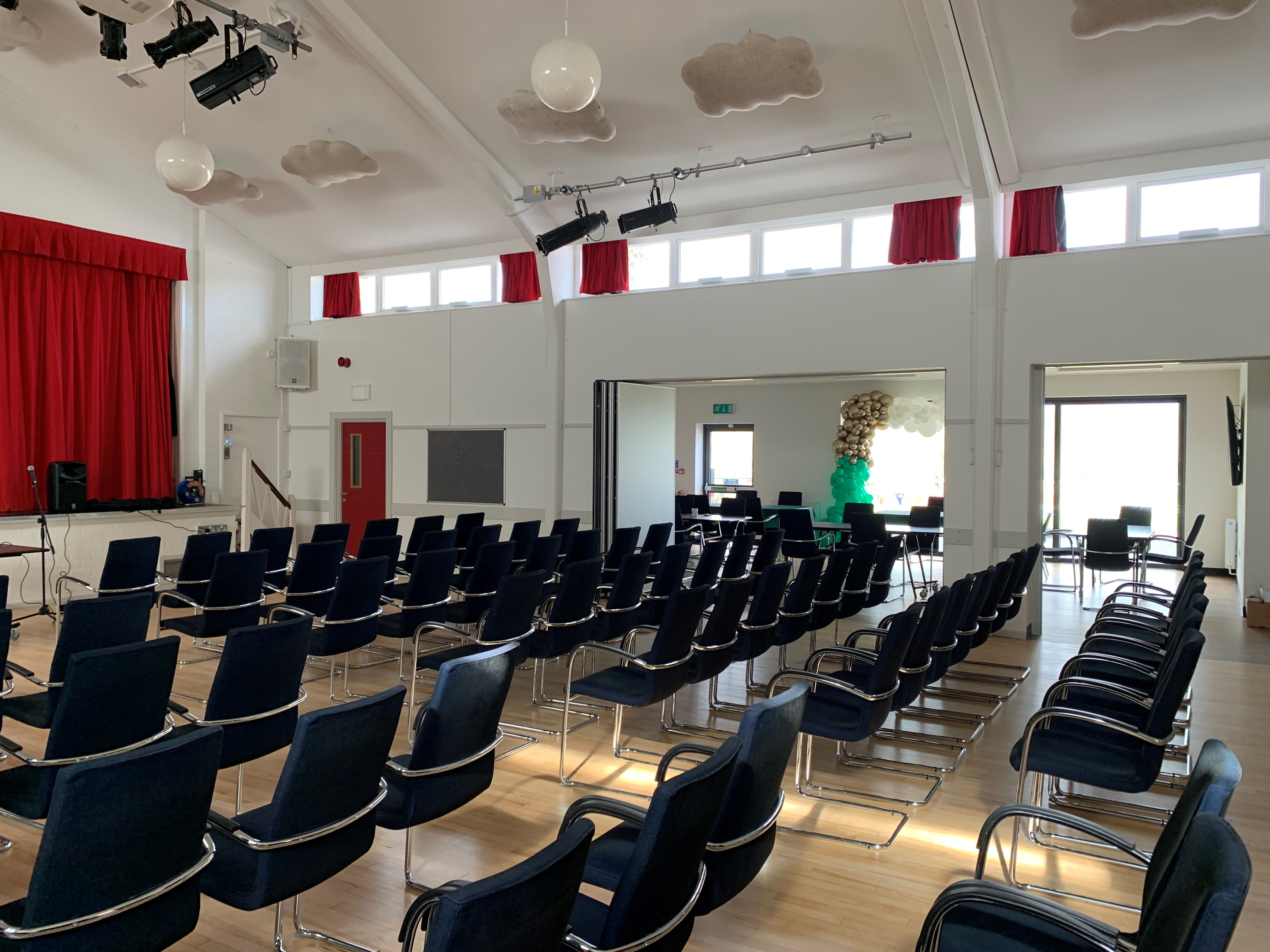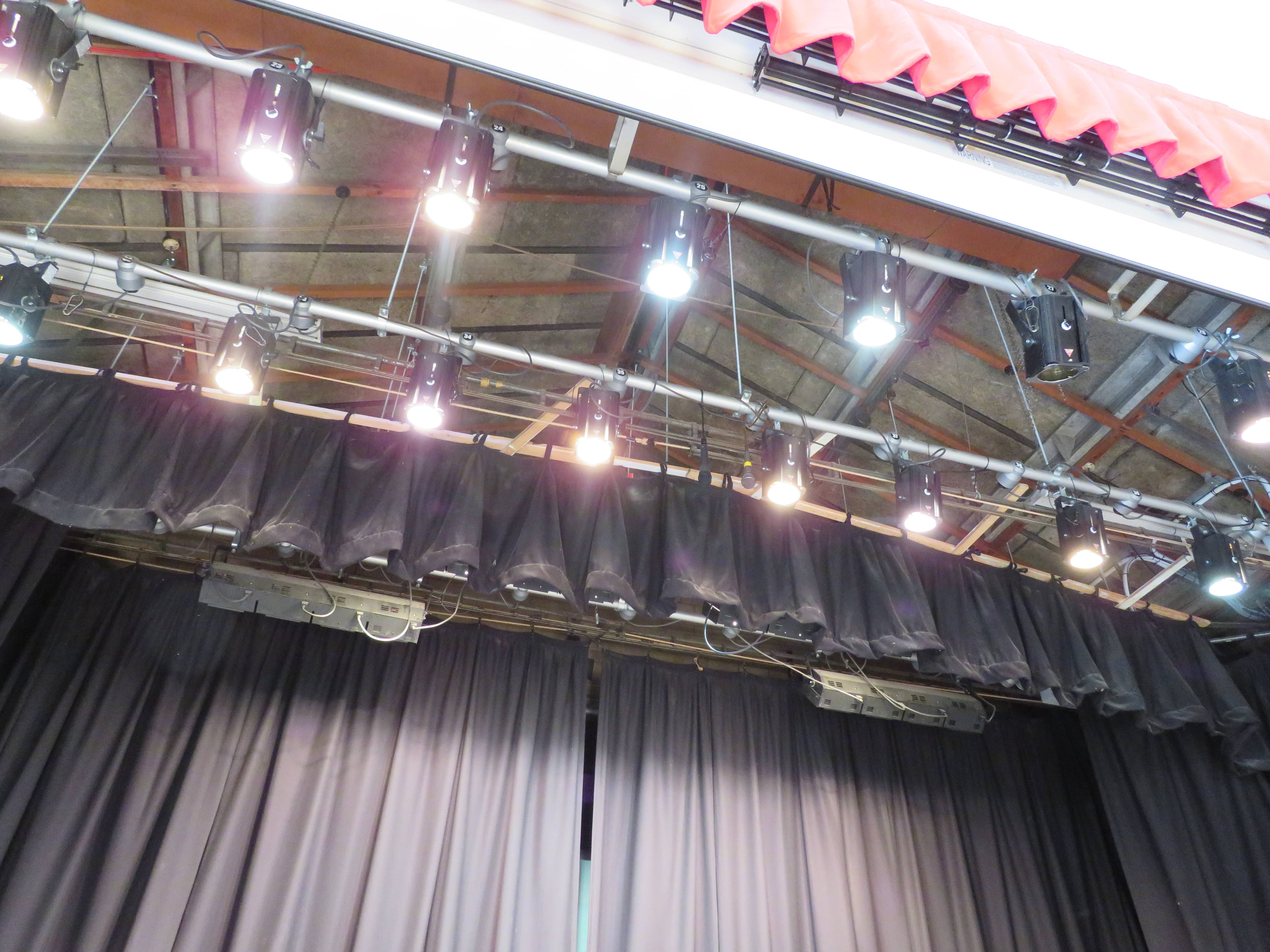 The Lamer (originally Hewitt) Room (8.5m x 6m) has a bar area and separate access to the servery. This room has a 70″ UHD 4K monitor, which can be used for the showing of presentations and videos/films where required, using either a cable or wirelessly.
The servery includes a range cooker, two large sinks, glasswasher, fridge-freezer, large selection of mugs, cups and saucers and multiple surfaces for food preparation etc. We do not loan out any other crockery, glasses or cutlery.
Room capacity: Up to 50 seated and 100 standing*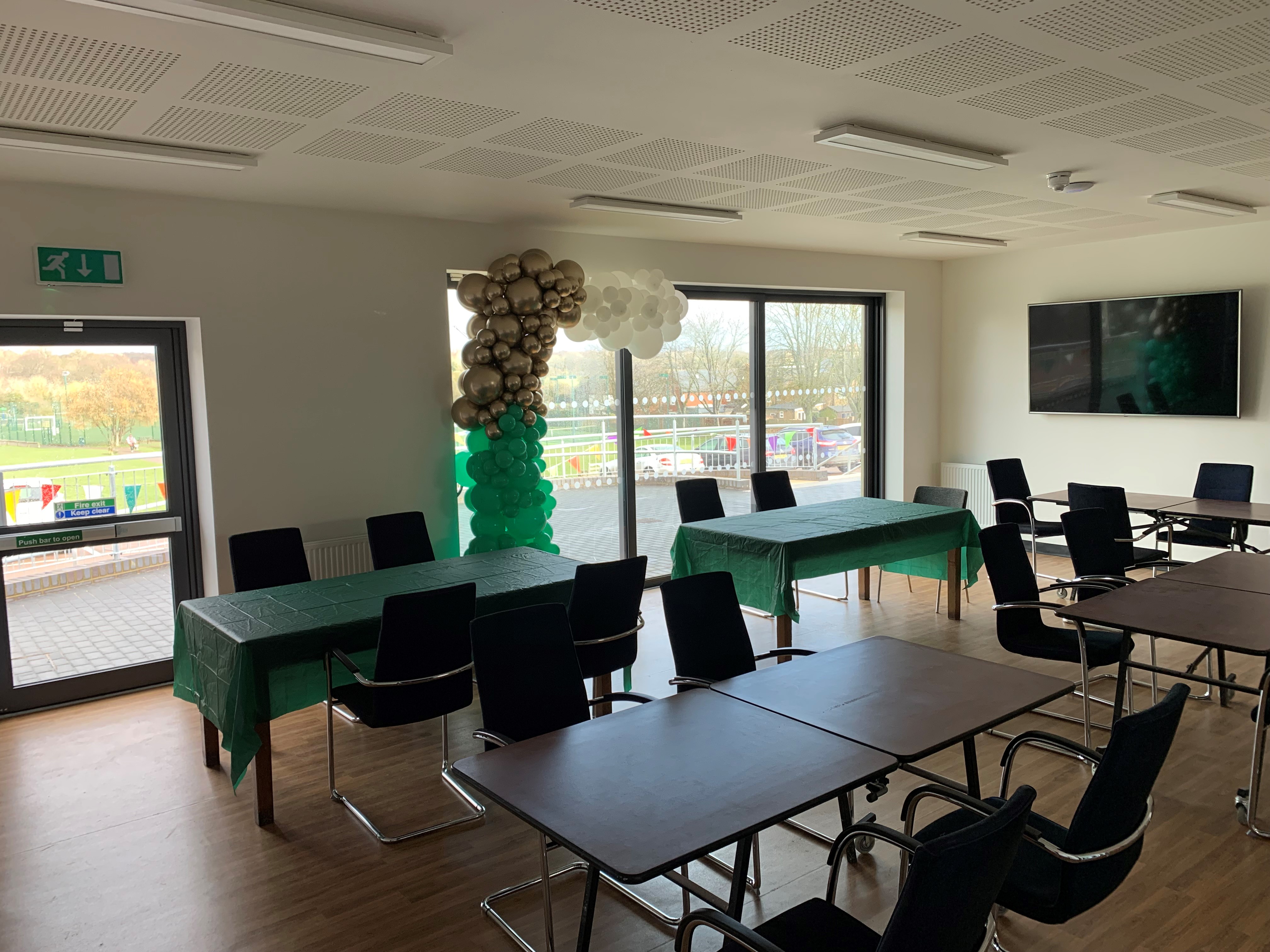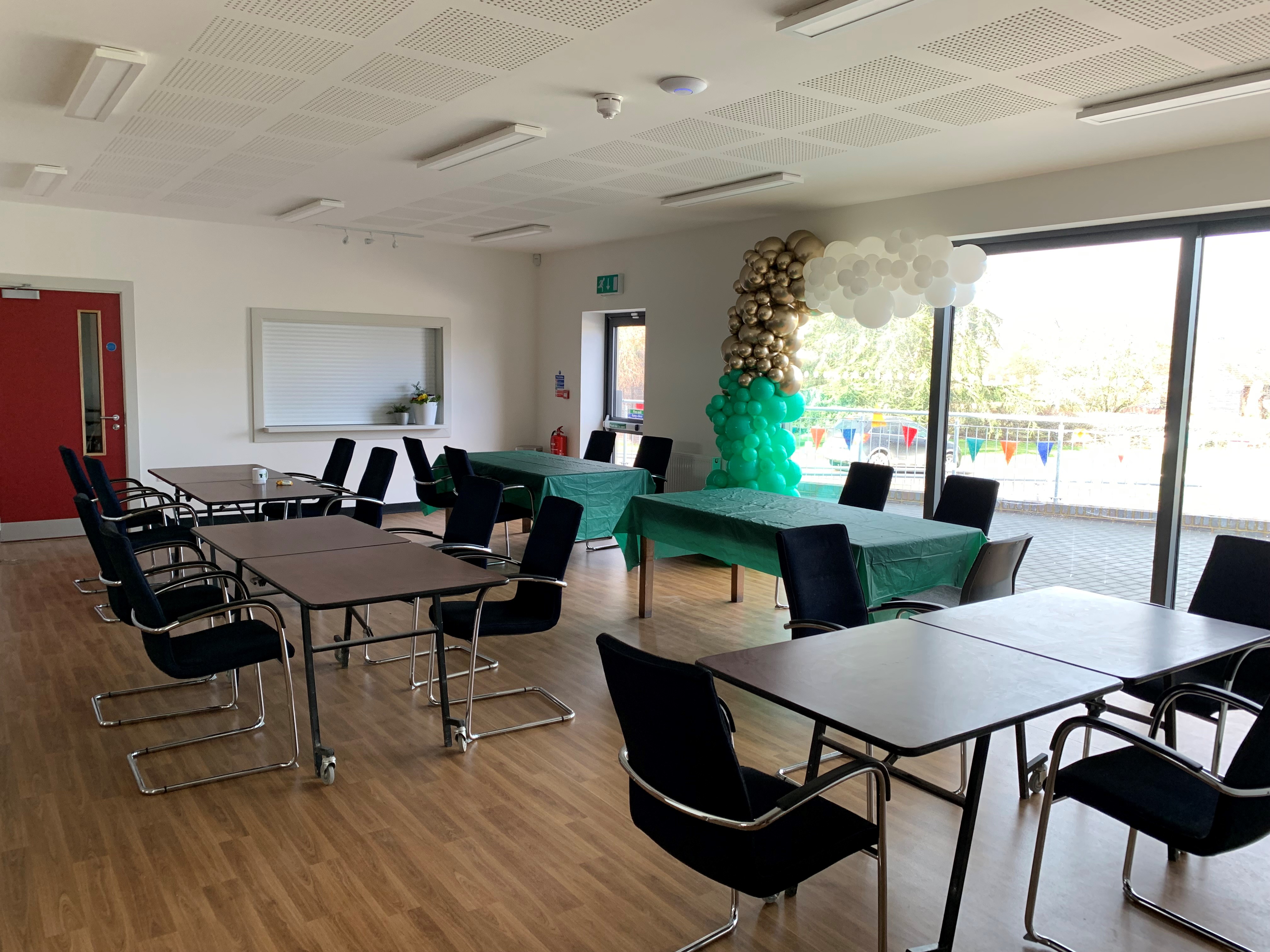 The Leasey and Amwell (previously The Old Library) (11.3m x 9.2m total) is a spacious room that can be split into two. 
Room capacity: Up to 80 seated and 160 standing*
*The 'standing' capacity is the maximum number of people allowed in that room. This assumes that there is no furniture or other items in the room reducing the available floor space.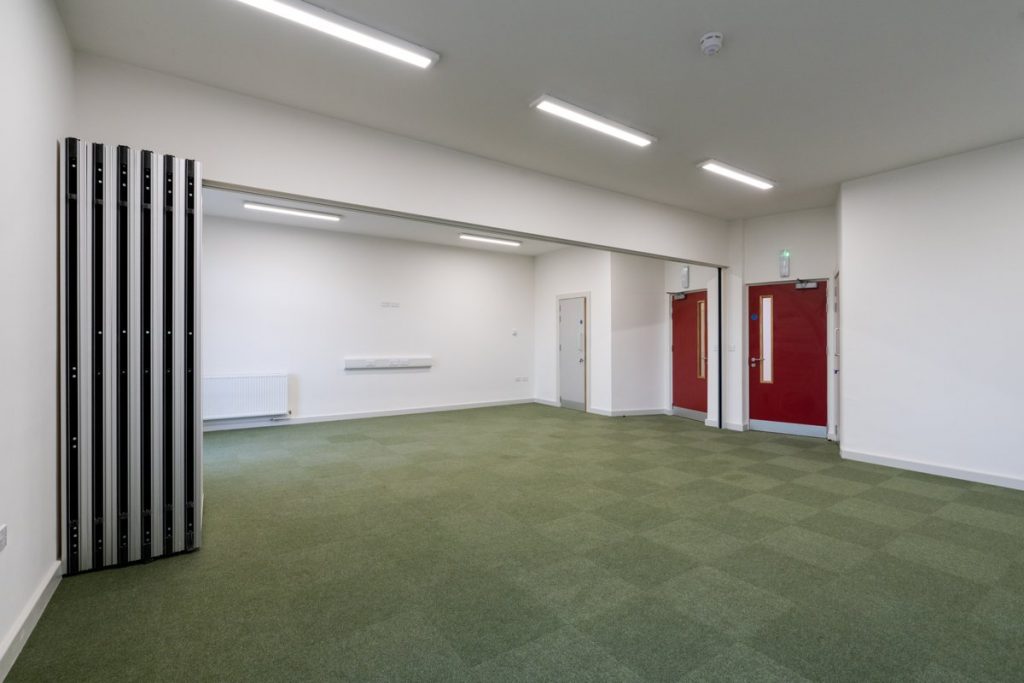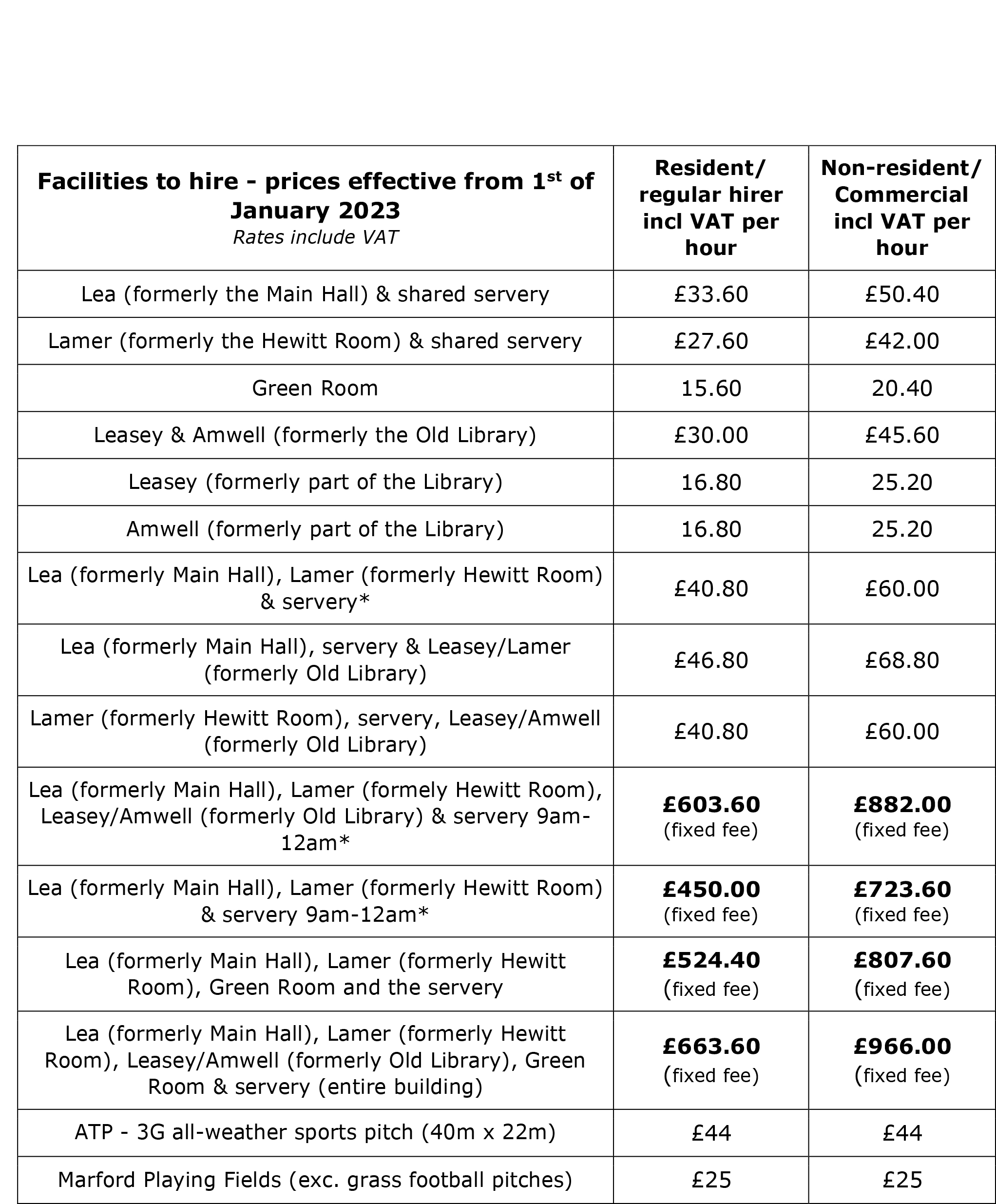 Furniture and equipment: All facilities include the use of up to 25 folding tables with wheels, a small selection of smaller tables, 180 chairs, display boards and assorted cables (HDMI, VGA, audio etc). These are shared between the all three rooms and must be requested and agreed in advance.  
**If you are hiring the Lea Hall and Lamer Room together, folding doors allow you to use these as separate rooms or as one large room.
All hire charges for The Marford Memorial Hall are inclusive of VAT. 
'Resident' refers specifically to someone who lives in the parish (AL4 8). The discounted rates are designed to benefit hirers who pay their council tax within this area.
Commercial/community discounts: Local community groups are eligible for the 'resident' rates. Commercial businesses (regardless of where they are based) must pay 'non-resident' rates, but will be eligible for the 'resident' rate after 12 consecutive bookings.
Deposits: Bookings can only be secured with 1) a cancellation deposit (20% of the final balance), and 2) a refundable damages deposit of £100 for hire of the whole building/Main Hall/Hewitt Room or £50 for hire of the Green Room only. Payment will be requested by invoice.
PLEASE NOTE – The Memorial Hall's Premises License strictly prohibits the hire of the hall for 18th or 21st birthday parties.
Please contact the office (01582 832541 or email info@wheathampstead-pc.gov.uk) to discuss availability BEFORE submitting a booking form – please do not use this as an enquiry form.
An online booking form will need to submitted once a suitable time and date has been agreed. You must familiarise yourself with our booking terms and conditions prior to completing the form.
If you are selling alcohol (which includes a 'free drink' with the sale of a ticket), you MUST declare this within your booking form. If alcohol is sold without our knowledge or permission, you will be in breach of our Premises License and risk incurring a penalty of up to £2,000.