Welcome Back to Wheathampstead!
Saturday 18 September 2021 - Supporting local businesses!
12pm to 4pm in Wheathampstead village centre
Win prizes by taking part in our competition trail
Visit the WPC tent at Rectory Meadow for an entry sheet or click the button below to download and print the entry sheet, or simply view it on your phone!
To enter complete the form with your contact info and correct answer OR email us at info@wheathampstead-pc.gov.uk 
Terms and conditions:
A winner will be chosen at random on Monday 20 September 2020. Entries sent after midnight Sunday 19 September 2020 will not be counted. 
Please only enter one person per family to keep it fair.
The individual businesses donating prizes take full responsibility for their gift. If you have a concern with regard to an item/service you have won, please contact the business in question.
Wheathampstead Parish Council takes no responsibility for individual businesses taking down their trail posters from their premises windows prior to this time.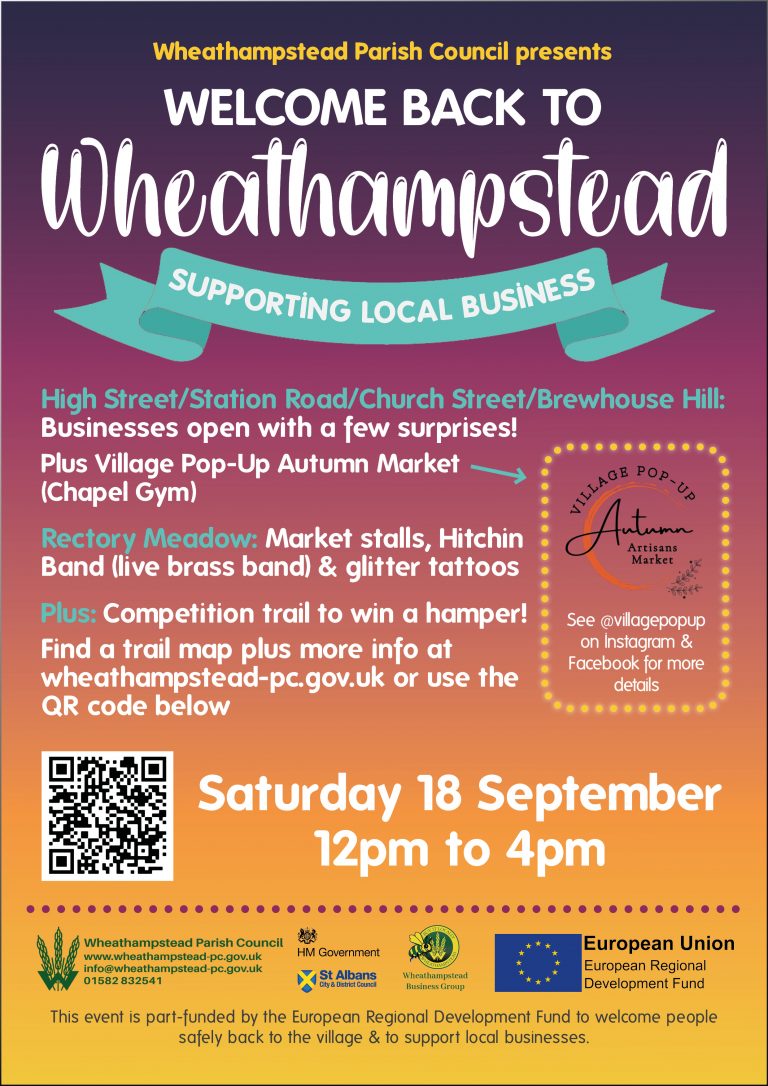 Are you a local business?
It goes without saying that this year has been tough for many businesses and now more than ever they need to engage with the residents of Wheathampstead and neighbouring villages.
Do you have premises on or near the High Street?
Get involved in any way you can; decorate, step outside to chat to people, perhaps even create promotions for that day only. And to encourage people to your premises, WPC will be organising a competition trail – each business will be asked to display part of a code that will form the answer needed for a chance to win a large hamper full of goodies!
Members of WPC will be popping by to chat to you over the coming weeks.
Not on the High Street? Would you benefit from having a stall instead?
We have got you covered! There will be a large marquee available for several businesses to display their wares (or leaflets if you're a service business), as well available spaces dotted throughout Rectory Meadow and the High Street. These may require a gazebo/chairs/table, which you will need to provide.
All pitches will be FREE OF CHARGE, however, you will be asked to donate towards the competition hamper, if appropriate.
If you are in the marquee, chairs and tables may be provided, however, this is to be confirmed. Full instructions will be provided in a couple of weeks.
Click the button below to submit your details.