The Pubs of Wheathampstead 1830 to 1914 – new book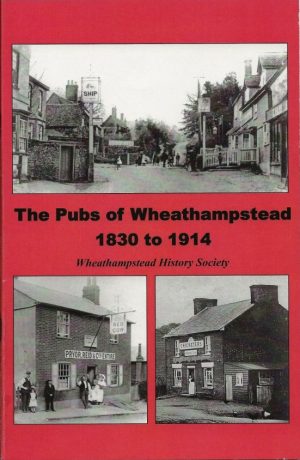 The days when Wheathampstead's Hope Brewery sold beer at a shilling a gallon may be long gone, but this book offers readers a chance to explore the rich and varied social life in the parish's 26 pubs more than a century ago. All life was there – the good, the bad and the ugly. Pubs hosted Benefit Societies as well as thieves and drunkards. Landlords didn't just sell beer, they also worked as bricklayers, farmers, or sawyers. Some weren't above breaking the Sunday licensing laws with a spot of subterfuge. One catered for his thirsty Sunday morning customers by pretending the buckets of beer he was carrying contained water for his horses. The landlady of one pub advertised 'stabling, cricket, archery, quoits, a Ladies' Coffee Room, hot and cold luncheons, dinners, and carriages to meet any train'. The landlord of another died from 'softening of the brain due to drink'. Now that the village can support a mere three or four drinking places, it is fascinating to see how much life went on in the pubs of yesteryear.
For more details, please visit the History Society website.
The book is available at the Post Office, the Swan, the Reading Rooms, the Cross Keys and Farr Brew, or by post from the Society at the website above.